The Truth About Old People by Elina Ellis
HB £11.99 published by Two Hoots
AGE 3+
When you're small, everybody bigger than you seems really old. But does being older have to mean being boring, or slow, or quiet? NO! Elina Ellis' debut picture book demonstrates just this as her characters bounce right off the page and into your heart. This delightful and hilarious celebration of grandparents and older people will be an instant favourite with children and grown ups alike, tackling ageism with splashes of heartwarming humour.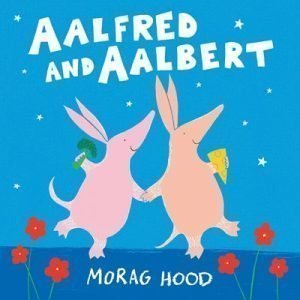 Aalfred and Aalbert by Morag Hood
HB £11.99 published by Two Hoots
AGE 3+
An adorable love story between two aardvarks that are only a hair's breadth away from meeting but their paths never cross… until some much needed meddling by a determined bird. Aalfred and Aalbert both need a pal. But Aalfred sleeps in the day, and Aalbert sleeps at night. How will they ever get the chance to meet? Bird conjures up a series of sillier and sillier schemes to get them into the same place, but their paths simply refuse to cross. Until one day, when they find each other in the most unexpected way.
Ocean by Hélène Druvert & Emmanuelle Grundmann

HB £19.95 published by Thames & Hudson
AGE 7+
This gorgeous, large-format book is filled with clever lasercuts and flaps throughout exploring the ocean, from the shoreline to the murkiest depths. The fact-filled journey is illustrated by paper and textile designer Hélène Druvert, the acclaimed creator of Paris Up, Up and Away, Mary Poppins Up, Up and Away, Anatomy and New York Melody. The book also features text by renowned biologist, naturalist and journalist Emmanuelle Grundmann.
Lightning Chase Me Home by Amber Lee Dodd
PB £6.99 published by Scholastic
AGE 9+
A novel of courage and strength packed full of adventure, heroics and heart. Amelia lives on the tiny Scottish island of Dark Muir, her mum has abandoned her and she's about to start a new, scary school. Her dyslexia means she's a target for the school bullies too. When she makes a wish on her birthday to be reunited with her mum, she finds herself quite literally disappearing at times of stress and reappearing elsewhere on the island, where she finds clues to her parents' past.
The Whispers by Greg Howard

PB £6.99 published by Puffin
AGE 10+
Before she disappeared, Riley's mother would tell him stories about the Whispers, mysterious creatures that lived in the wood and have the power to grant wishes. Riley wishes for lots of things. He wishes his secret crush Dylan liked him back. He wishes the bumbling detective would stop asking awkward questions. But most of all he wishes his mother would come home. Riley heads into the woods with his dog Tucker and his best friend Gary in hope of finding the Whispers and the truth.
The Winter of the Witch by Katherine Arden
HB £12.99 published by Penguin Random House
AGE 11+
Moscow is in flames, leaving its people searching for answers – and someone to blame. Vasilisa, a girl with extraordinary gifts, must flee for her life, pursued by those who blame their misfortune on her magic. Then a vengeful demon returns, stronger than ever. Determined to engulf the world in chaos, he finds allies among men and spirits. Mankind and magical creatures alike find their fates resting on Vasya's shoulders – but she may not be able to save them all.