Guest columnist Cathy Owen is discovering that 'Green' is the new black…
Generally, as a style advice columnist I simply share my favourite pieces based on a theme or season, it's not rocket science! However, it's becoming more and more apparent to me, and society at large, that we can't pick something just because it's pretty, we need to be asking questions about how our clothes choices impact on the environment and about the welfare of the people who make them. Therefore, I've wholly embraced my editor's theme for this issue as an opportunity to discover how to be fashion conscious with a conscience, as well as sharing my must-have stylish, sustainable and ethical new brand pieces with you.
I've always believed, just as buying organic or free-range food, that having a fashion conscience costs as (let's be honest) the price for better, longer-lasting fabrics and a fairly-paid and treated workforce ultimately has to be passed on to the consumer. While that is true, there are still many brands that are making being a more mindful shopper accessible to us all.
Diving straight in I've fallen hard for this vivid blue skirt from Fabienne Chapot which is made with 100 per cent recycled polyester. In addition to the sustainable credentials, you'll be able to wear this skirt for many years to come. Dress it up for a wedding, wear with trainers and a T-shirt for casual weekends or with a chunky knit and boots in winter. There is no need for this beauty to ever end up in landfill!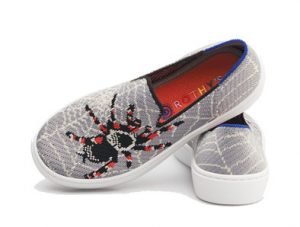 I spotted this next brand on Emily Jane Johnston's Instagram. Rothy's make their shoes from recycled plastic water bottles and I couldn't believe how gorgeous they were. I think this Wildcat design is just purr-fect and they make the cutest kids' styles too.
Another great brand to check out are MUD Jeans. They reuse denim, design with zero impact, and also offer repair and leasing services ensuring the most popular piece of clothing in many of our wardrobes are sustainable and ethical. To do their part in reviving the oceans they've teamed up with the charity Sea Shepherd to create these dungarees, with profits going to support their mission against illegal fishing and plastic pollution. I particularly love these dungarees for me – and for my other half these jeans, both of which can be bought or leased.
Another alternative sustainable avenue which should always be explored is vintage and second-hand fashion. I've bought vintage since I was a teenager – long before I even knew what sustainable fashion was – so I can totally get on board with this. While writing this column I found this amazing vintage Aquascutum coat on ebay for a complete steal at £35.
Let's not overlook the sustainable offering from our favourite high street stores though. H&M not only have an extensive conscious collection, but you can also recycle all clothes, not just H&M ones, in store in exchange for a voucher. The collection has everything from jeans and basics to full on glamour- like this dress – which I'm very tempted to pick up for my holiday to Morocco this summer… did someone cry cliché? Guilty!
Another reason I was drawn to this theme was because I was intrigued by BAFTA's dress code for this year's awards – to wear ethical fabrics, vintage, or re-wear, and by just how few of the influential celebrities attending actually did it! While researching which celebrities did make an actively sustainable effort, I came across a free fashion evaluation app – Good On You – championed by actor Emma Watson! It awards stars to fashion brands allowing you to check their sustainable credentials before you buy and a quick check showed that H&M have made 'a good start' with three stars. I can purchase my aforementioned dream holiday dress guilt-free – phew!
Cathy x