In the first of a new series of blog posts on Ni4kids, Northern Ireland mum of two, Naomi Barr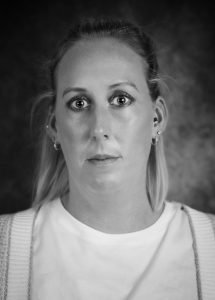 discusses her diagnosis with a mental health condition and reveals how it affects her daily life.
I am a 34-year-old mother of two girls, aged 8 and 5. In 2012 I was diagnosed with borderline personality disorder, or emotionally unstable personality disorder as it is also known. I have a history of eating disorders, mainly anorexia and bulimia. I am in recovery.
Recently I was an inpatient on a psychiatric ward.
Surrounded by patients with varying diagnoses and problems all banded together, it was what can only be described as an odd, dysfunctional society. You form short-lived bonds with the person in the next bed and you spend all of your time pondering the meaning of life.
"Being a parent with issues surrounding my mental health does not make me any less of a mum"
A psychiatric ward is not fun, it is not a holiday, it is a necessary step in order to achieve a good outcome. For me it is a halt in time, a crisis stopper. A long overdue deep breath in.
I missed my family, although my husband brought my children up every other day. I felt detached from them, like they were in the distance and that half hour with them was just a dip in time. I survived though, as do most. I stepped back into the real world and went full throttle into life again. My children are my world, my illness does not define me. Being a parent with issues surrounding my mental health does not make me any less of a mum. Sometimes I just need to take a step back, get a bit of help and support, and get perspective. It's okay to let others take the reins sometimes. Be kind to yourself and know you're not alone.
This month saw our children go back to school, and for most this is a welcome start to establishing a lost routine. There's a lot to be said for routine. It helps keep my mind tidy. I know where I'm at each day, no more sleeping in late and groggily trying to figure out what to do with the day, how to entertain the children without spending a fortune. Holidays can be a tough time for anybody let alone someone struggling with their mental health.
The biggest issue I've had this summer has been food. I've lived with an eating disorder both active and dormant over the last 15 years, give or take. I seem to have lost complete control over what I eat. In other words, I literally cannot stop eating.
"In my opinion everyone should have therapy at some point in their lives"
My goal this September is to re-establish a good routine and sensible eating plan. Three meals per day with healthy snacks in between. Sounds easy; it's not. Over the years I've forgotten what a normal diet plan looks like. I either eat too little or eat too much.
I need help with this and so I'm embarking on yet another round of talking therapy. In my opinion everyone should have therapy at some point in their lives. It helps to iron out the creases in our brains, helps to refocus on the here and now.
If I can translate any sort of message to anyone reading this, it would be this: don't beat yourself up for finding days hard sometimes, if you're a parent like me, allow yourself some time out.
If you've support around you which I am thankfully blessed with, then use it. If not, then contact services that you can get help from. The road of mental illness is long and it's tough, but it's not without its possibilities. I wholeheartedly believe that someday, my journey will be far in the past.
SUPPORT SERVICES AND NETWORKS
Eating Disorders NI – Northern Ireland's peer-led eating disorder charity. Their services are free and confidential. They accept self-referrals and you do not need to have a diagnosis.
Tel: 028 9023 5959
Email: info@eatingdisordersni.co.uk
Lifeline NI – the Northern Ireland crisis response helpline service for those experiencing distress or despair.
Tel: 0808 808 8000
Deaf and hard-of-hearing users: 18001 0808 808 8000
Belfast Samaritans – provides core Samaritan services, while their outreach activities help reach people and groups who may be at increased risk of suicide or who may be supporting others in crisis.
www.samaritans.org/branches/belfast/
Tel: 116 123 free from any phone or 0330 094 5717 (local call charges apply)
Email: jo@samaritans.org
Holywood Family Trust – HFT exists to help equip individuals and families through some of the issues in their lives and contribute towards an inclusive community.
Tel: 028 9042 7842 (general office) or 028 9042 7214 (counselling service)
Email: info@holywoodft.co.uk or counselling@holywoodft.co.uk