In the latest of our series of blog posts on Ni4kids, Northern Ireland mum of two, Naomi Barr discusses her diagnosis with a mental health condition and reveals how it affects her daily life.
I am a 34-year-old mother of two girls, aged 8 and 5. In 2012 I was diagnosed with borderline personality disorder, or emotionally unstable personality disorder as it is also known. I have a history of eating disorders, mainly anorexia and bulimia. I am in recovery.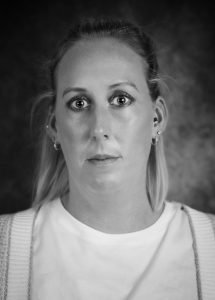 Anyone who is a parent or has parental responsibility knows that children secrete into every space you have in life.
They take up so much room and demand so much of your time that on occasion or many if you're anything like myself, you feel ready to implode. Your body is a pressure cooker and your brain is the lid. Sooner or later the lid blows off the top.
September did however, arrive and with it saw the kids go back to school. This has been an emotional start to term as this year my youngest of two started Primary 1. To be perfectly honest, she has gone in each day with not so much as a glance backwards, so the anxiety around school really does just lie with me.
Busy school schedule aside, this last month has seen me discover a sense of self
If you asked me what my biggest anxiety was surrounding right now, I'd tell you homework. With a child in Primary 5 the homework seems to have really stepped up a notch. I confess, that first day the work was sent home I spent half an hour sitting with it just to organise my brain around it.
Busy school schedule aside, this last month has seen me discover a sense of self. I'm getting time back which was otherwise spent meeting everyone else's needs but my own. I've been using my mornings to address not just the mundane housework but things like my nails, my hair. I've even started wearing make-up again (something which I really got out of the way of during lockdown). I guess you could say I'm doing well.
I've made changes too, I've handed in my notice to my work place, somewhere I have worked on and off since 2009. Now felt like the right time. I need to focus on myself and my family. Focus on my own four walls as my husband always says. I've also purchased a nose clip! My snoring has apparently reached new heights! This in part I think is due to the heavy doses of medication I am on. Suffice to say though I may go back to the drawing board, as I am still continuing to snore.
Being able to talk openly about what's going on in your head is so important
I have started my counselling sessions. I now have a safe space to talk through my anxieties and thrash out ideas on how to navigate them. Being able to talk openly about what's going on in your head is so important. If you don't get it out and said, then where does it go? It festers inside and eats away at you.
Many counselling services are free of charge with no need for referral from a GP. Even if you're in a good place (which I consider myself to be in now) it does no harm to sit with someone and just be you. Therapy and counselling don't judge. Nothing you might say would shock. Give it a go. If you feel as though everything is piling on top of you, or that your thoughts are not quite lining up then talk to someone. It's okay to let go.
SUPPORT SERVICES AND NETWORKS
Eating Disorders NI – Northern Ireland's peer-led eating disorder charity. Their services are free and confidential. They accept self-referrals and you do not need to have a diagnosis.
Tel: 028 9023 5959
Email: info@eatingdisordersni.co.uk
Lifeline NI – the Northern Ireland crisis response helpline service for those experiencing distress or despair.
Tel: 0808 808 8000
Deaf and hard-of-hearing users: 18001 0808 808 8000
Belfast Samaritans – provides core Samaritan services, while their outreach activities help reach people and groups who may be at increased risk of suicide or who may be supporting others in crisis.
www.samaritans.org/branches/belfast/
Tel: 116 123 free from any phone or 0330 094 5717 (local call charges apply)
Email: jo@samaritans.org
Holywood Family Trust – HFT exists to help equip individuals and families through some of the issues in their lives and contribute towards an inclusive community.
Tel: 028 9042 7842 (general office) or 028 9042 7214 (counselling service)
Email: info@holywoodft.co.uk or counselling@holywoodft.co.uk